Salisbury Township is covered by 4 Emergency Medical Services in the township. Our police department also runs a certified QRS unit and Police and Fire Inspectors respond to EMS assist calls.
Cetronia Ambulance Corps
Western District of the Township
Website
Emmaus EMS
Area of the South Mall
Website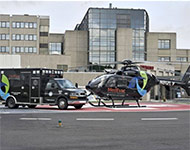 LVH Medevac EMS
The Hospital Center and their buildings
St. Lukes ETS
Eastern portion of Salisbury Township
Website
Quick Response Service
The police department runs a state certified EMS unit to increase ambulance response in the township. Officers receive additional training to act accordingly in emergency situations. It is one more step to increase the public safety in Salisbury Township.