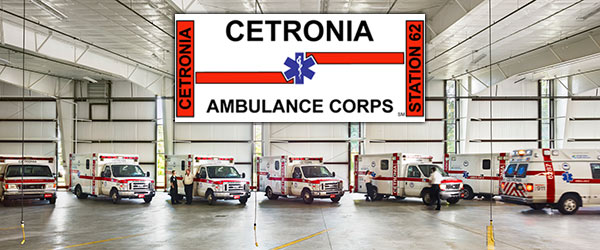 Our community's needs for emergency medical services (EMS), medical transportation and community health resources are provided by Cetronia Ambulance Corps.
About Cetronia Ambulance Corps
Cetronia Ambulance Corps, founded in 1955, is a non-profit, 501(c)3 community-based emergency medical services provider prominently located in the Lehigh Valley. Cetronia Ambulance Corps is one of the largest providers of ambulance and medical transportation services in Eastern Pennsylvania; employing 140 full and part time career associates, and 20 active volunteers. Cetronia's boasts a fleet of 40 vehicles consisting of 19 ambulances, 16 para-transit vehicles, a quick response supervisor's vehicle, three medi-cars and a special operations unit.
In 2008, Cetronia Ambulance achieved national accreditation from the Commission on Accreditation on Ambulance Services (CAAS). This accreditation signifies that our organization exceeds standards established by both state and local regulation and it recognizes our core values, our processes and all the things we do to serve our community and our patients. To the communities we serve, our accreditation signifies that Cetronia will provide support for educational programs and response to natural disasters or catastrophic events. To our customers, it signifies the high level of patient care they will recieve and ensures them that they can count on continuous quality improvement being the mission and purpose of our service. Cetronia Ambulance Corps is one of only seven ambulance services to be nationally accredited in the state of Pennsylvania; one of 144 from a total of over 17,000 ambulance services in the United States that have achieved this distinction.
Cetronia Ambulance Corps also maintains the only High Performance EMS System in the state, utilizing advanced technology and processes to optimize resources and reduce response times while remaining fiscally responsible. Guided by sophisticated software that uses historical call data and predictive modeling, crews are continually deployed to areas where life threatening medical emergencies are statistically most likely to occur. Cetronia's High Performance EMS System is designed to provide the highest level of quality patient care by reducing response times and improving upon consistently reliable pre-hospital care and medical transportation.
Cetronia Ambulance Corps believes in regional partnerships with others to better and more efficiently serve the emergency and non-emergency needs of our community and has expanded capabilities to further meet the needs of the growing Lehigh Valley Community. Cetronia Ambulance Corps will receive over 50,000 requests for service in 2014, and covers an emergency service area that spans across 108 square miles and a non-emergency coverage area that encompasses seven counties. Cetronia Ambulance Corps provides Health on Wheels ™ and is dedicated to saving lives and partnering with community every day.
---
Subscription Program
Cetronia Ambulance Corps offers an affordable subscription program designed to control the out-of-pocket expenses related to ambulance transportation and pre-hospital emergency medical care for you and your family. Most medical insurance plans only cover a portion of the fees associated with pre-hospital emergency care and medical transportation. As a subscriber, you will not be billed for balances owed on services that are partially covered by your insurance carrier, with the exception of deductibles as mandated by Federal Law. On non-covered services (wheelchair van, ambulette and certain non-emergency transports) you will receive a 25% savings.*
We rely on subscription memberships, donations, grants, insurance reimbursement and user fees to sustain our advanced life-saving operations. Your generous contributions allow us to maintain our commitment to excellence in pre-hospital healthcare by continuing to reinvest in technology for our sophisticated EMS system and critical life-saving equipment. With recent cuts in healthcare reimbursements and the growing number of requests for services, your participation in our subscription program is now more vital than ever…Please call our Administrative Offices to become a member at 610-398-0239.
Contact Information
Administrative Offices:
4300 Broadway
Allentown, PA 18104
610-398-0239
www.CETRONIA.org
Like us on Facebook
Follow us on Twitter
Services Offered
Cetronia Ambulance Corps provides the following services:
Rapid 911 Emergency Response
Medical Transportation
Advanced Life Support
Basic Life Support
Ambulette and Wheelchair Services
Medi-Car Services
Medical Alarm Services
Ambulance Billing Services
Emergency and Non-Emergency Dispatch Services
Education and Training Programs
In addition Cetronia Ambulance Corps is a valuable community partner, offering a number of community outreach, education and public health and safety initiatives to our residents. Some of these services include:
Special Event Stand-by EMS Services
Community Event Participation
Special Teams – Bike Team, Fire Rehab Team and Strike Team for Disaster Response
Subscription Membership Services
Community Education
Youth Programs
Community Presentations