Content Archives:

Refuse and Recycling

NOTE: The Yard Waste Drop-off sites will now be open from the first Monday in April through the last Saturday in November. The hours of operation are Mondays and Thursdays from 10:00am – 6:00pm and Saturdays from 8:00am-1:00pm. Please note, the hours on Mondays & Thursdays for the month of November only will be 10:00am-5:00pm. Weeks of operation will alternate with each site. Please reference the schedule for the exact dates (PDF link).

Printable documents:

DEVONSHIRE DROP-OFF:
Located on Devonshire Road, near the Elementary and Middle Schools Schools, across the street from Western Salisbury Jerusalem Church.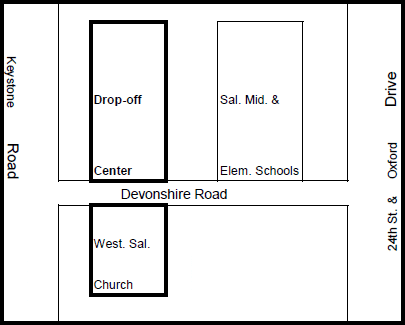 FRANKO FARM DROP-OFF:
Located off East Emmaus Avenue. At the Eastern Salisbury Fire Company, turn south onto Honeysuckle Road, 1/4 mile up on Honeysuckle Road on the left side.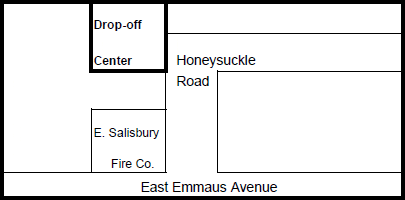 Leaves are only accepted at Franko Farm – they must be clean and not mixed with grass or yard waste.
Cut lawn grass accepted at both locations – it must be clean and not mixed with yard waste.
---
ITEMS ACCEPTED:
Yard Waste – Plants and trimmings, NO roots, rocks, concrete, or newspaper.
Branches – Branches no more than 5′ long, maximum 5″ diameter. NO stumps or felled trees.
Leaves – Accepted ONLY at the Franko Site.
MUST BE CLEAN AND NOT MIXED WITH GRASS OR YARD WASTE
Grass – Grass clippings must be separated and transported by residents to the drop-off centers.
GRASS MUST BE CLEAN AND NOT MIXED WITH OTHER YARD WASTE.
* Bags and other containers used to transport the grass clippings will be checked to make sure that they contain only grass clippings and no other waste. Contaminated bags will not be accepted and will be returned to the resident. Bags that contain grass clippings only will be dumped into the grass containers and empty bags will be returned to the residents. The Township will not accept any bags after being emptied. Residents who utilize trailers to transport the grass which are equipped with doors. No Township personnel will be permitted to shovel grass from trailers.
* The drop-off centers will only accept grass clippings generated from home owners mowing their own grass. Residents who currently use a commercial landscaper for mowing must make their own arrangements with the landscaper to dispose of the clippings. NO COMMERCIAL LANDSCAPER GRASS CLIPPINGS WILL BE ALLOWED.
* NO ILLEGAL DUMPING OF GRASS WILL BE TOLERATED. RESIDENTS MUST USE THE DROP-OFF CENTERS FOR DUMPING GRASS. ANYONE CAUGHT DUMPING GRASS ON ANY PUBLIC RIGHT-OF-WAY OR PUBLIC PARK OR PROPERTY WILL BE CITED ACCORDINGLY.

RESIDENT IDENTIFICATION: Proper ID will be required to determine residency. Acceptable forms of identification include a current-year Salisbury Township utility bill and/or PA Driver's License.
RESTRICTIONS: The centers will be open for residential use ONLY. Commercial landscapers and any other non- residential use will not be allowed.
NO DROPPING OFF OF ANY MATERIALS WHEN THE CENTERS ARE CLOSED.
To dispose of electronic waste and/or household hazardous waste, please call Republic Services at 484-273-3940. Please be sure to use this number as the one in the flyer that was mailed from Republic Services is incorrect (the one posted on the Township's website is correct). Residents will be able to schedule a collection date directly with a representative from Republic Services.
Please be advised: Effective February 1, 2021, residents on the Wednesday and Saturday trash and recycling route will now have collection on Mondays and Thursdays. Mondays will be trash and recycling and Thursdays will be trash only. No other routes are impacted by this change.
To ALL residents: Electronic waste and household hazardous waste collection is expected to begin March 1, 2021. A flyer with more information will be mailed to residents and posted on the Township's website in mid-late January.
Beginning May 4, 2020, both the Franko Drop-Off and the Devonshire Drop-off will be reopening, under slightly different guidelines from the norm:
The two drop-offs will be open Monday to Friday from 8am-2pm, on alternating weeks, for the entire month of May. Franko will be open the weeks of May 4th and 18th. Devonshire will be open the weeks of May 11th and 26th. This is a temporary change intended for the month of May only. We will revisit the operation schedule in mid to late May, but it is subject to change at any time, depending on circumstances.
We'll have one Public Works' employee stationed at the entrance gate, managing all site visitors. Residents will have to show proof of Township residency (their most recent utility bill would be optimal) and addresses will be logged. Only 3 cars will be allowed on-site at any given time; only when one car leaves another will be allowed in.
As usual, the sites are open for residential use only; no landscapers or non-residential use will be allowed. All materials will be checked to ensure that they're clean and not contaminated with other waste. Contaminated materials will not be allowed to be disposed of at the site.
In order to maintain appropriate social distancing, there will be no physical interaction between Township staff and the public. Residents must be able to unload materials and empty containers themselves. Residents must take all bags and containers utilized for the transportation of materials with them when they leave the drop-off site.
Masks will be required to be worn to enter the site.
Trash Hauler Info


CUSTOMER SERVICE: 1-855-866-8399 (TOLL FREE)
Residents may call Republic Services for collection schedules and complaints. Please do not hesitate to contact the Township if you are not satisfied with your service or the hauler's follow up concerning your inquiry.
*hauler does not collect leaves or yard waste*
Single Stream Recycling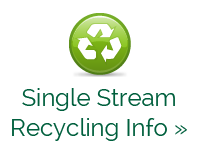 Recycling Bin
Recycling bins are available for purchase at the window in the Finance Office.  Currently, we have 20-gallon bins available for $13 each.