Content Archives:

Refuse and Recycling

January 3, 2022

A Message to our Residents –

We at Salisbury Township understand the difficulty most everyone has experienced over the past year (or more) with ever-persistent impacts of the COVID-19 pandemic being felt everywhere.  Because of staffing shortages and the difficulties with retaining and maintaining a full complement of employees at any given time, this affect is especially evident throughout the service industry.  The Solid Waste and Recycling Collection Industry has likewise been impacted.

During 2021 in particular, many of you have experienced refuse and recycling collection service inconsistencies, some sporadic, some chronic, but all quite understandably frustrating.  We sincerely apologize to everyone who has been negatively impacted in such a way. 

As a courtesy to our residents and a thank you for your understanding of the issues at hand and for your continued patience as we work to mitigate them, we have issued a $36 credit on each refuse account on this upcoming January 2022 billing.

Please know we – along with Republic Services management team – are working diligently towards a remedy.  Unfortunately, some of the issues are simply beyond anyone's control, and there simply is no easy fix.  Regardless, we persist in pushing for improvement.

In the interim, we have temporarily extended collection hours, so please be sure your items out at curbside by 5am in a location where they are both visible and accessible for collection by Republic Services' drivers and helpers.  Ideally, you should place your items curbside the evening before your scheduled collection – any time after 6pm – in order to avoid calls for missed collections that were simply instances of items not being curbside timely. 

As always, if your trash or recycling does not get picked up, please report the miss to the Township as soon as possible at either 610-797-4000 or info@salisburytownshippa.org.  Be assured that we are in constant communication with Republic as we collectively strive for a resolution.

Regards,
Cathy Bonaskiewich
Township Manager

On behalf of the Board of Commissioners

If your trash or recycling is missed on your regularly scheduled pickup day, and it is not a Republic Services holiday, please leave it curbside and call the Township office at 610-797-4000 to report the miss.  Alternatively, please feel free to email the information to info@salisburytownshippa.org.

The Department of Public Works will begin their leaf collection program on Monday, October 25 with the self-contained units running on both sides of the Township. Residents should place leaves loose along the curb. Leaf collection will continue until mid-December (weather permitting), and crews will make several passes through the Township. Please continue to check the website for updates throughout the season.

State Representative Jeanne McNeill is hosting an electronics recycling and document shredding event at Salisbury Elementary School on October 16, 2021. Please see the attached flyer for additional information. Please contact Representative McNeill's office directly with any questions at 610-266-1273.
Trash Hauler Info


CUSTOMER SERVICE: 1-855-866-8399 (TOLL FREE)
Residents may call Republic Services for collection schedules and complaints. Please do not hesitate to contact the Township if you are not satisfied with your service or the hauler's follow up concerning your inquiry.
*hauler does not collect leaves or yard waste*
Single Stream Recycling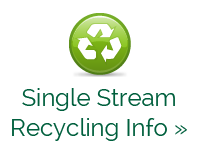 Recycling Bin
Recycling bins are available for purchase at the window in the Finance Office.  Currently, we have 20-gallon bins available for $13 each.