Content Archives:

Refuse and Recycling

The Salisbury Township Public Works Department will be conducting a curbside branch collection for residents during the week of April 17, 2023. Residents should place their branches at the curb on Sunday, April 16 after 6:00 pm and crews will be around during the week to collect them. Branches may be no larger than five-feet long and five inches in diameter, and they should be bundled and tied with twine. An open container may be used for small twigs, but no bags or lids are permitted. No more than six bundles/cans per property is permitted.

NOTE:
The Drop-off sites will now be open from the first Monday in April through the last Saturday in November.

The hours of operation are Mondays & Thursdays from 10am-6pm and Saturdays from 8am-1pm.

Note: In the month of November, the sites will close at 5:00pm on Mondays & Thursdays

Weeks of operation will alternate with each site. Please see the below schedule for the exact dates.(PDF link).

Printable documents:

DEVONSHIRE DROP-OFF:
Located on Devonshire Road, near the Elementary and Middle Schools Schools, across the street from Western Salisbury Jerusalem Church.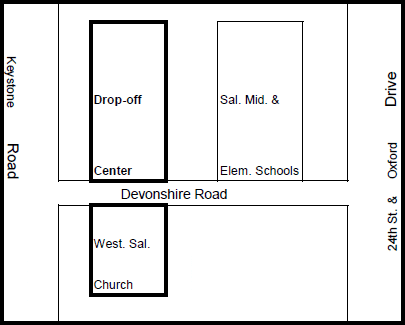 FRANKO FARM DROP-OFF:
Located off East Emmaus Avenue. At the Eastern Salisbury Fire Company, turn south onto Honeysuckle Road, 1/4 mile up on Honeysuckle Road on the left side.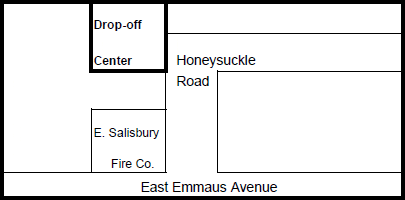 Leaves are only accepted at Franko Farm – they must be clean and not mixed with grass or yard waste. Cut lawn grass accepted at both locations – it must be clean and not mixed with yard waste.
---
ITEMS ACCEPTED:
Yard Waste – Plants and trimmings, NO roots, rocks, concrete, or newspaper.
Branches – Branches no more than 5′ long, maximum 5″ diameter. NO stumps or felled trees.
Leaves – Accepted ONLY at the Franko Site.
MUST BE CLEAN AND NOT MIXED WITH GRASS OR YARD WASTE
Grass – Grass clippings must be separated and transported by residents to the drop-off centers.
GRASS MUST BE CLEAN AND NOT MIXED WITH OTHER YARD WASTE.
* Bags and other containers used to transport the grass clippings will be checked to make sure that they contain only grass clippings and no other waste. Contaminated bags will not be accepted and will be returned to the resident. Bags that contain grass clippings only will be dumped into the grass containers andempty bags will be returned to the residents. The Township will not accept any bags after being emptied.
No Township personnel will be permitted to shovel grass from trailers.
* The drop-off centers will only accept grass clippings generated from home owners mowing their own grass. Residents who currently use a commercial landscaper for mowing must make their own arrangements with the landscaper to dispose of the clippings.
NO COMMERCIAL LANDSCAPER GRASS CLIPPINGS WILL BE ALLOWED.
* NO ILLEGAL DUMPING OF GRASS WILL BE TOLERATED. RESIDENTS MUST USE THE DROP-OFF CENTERS FOR DUMPING GRASS. ANYONE CAUGHT DUMPING GRASS ON ANY PUBLIC RIGHT-OF-WAY OR PUBLIC PARK OR PROPERTY WILL BE CITED ACCORDINGLY.

IDENTIFICATION: Proper ID will be required to determine residency. Acceptable forms of identification include a current-year Salisbury Township utility bill and/or PA Driver's License.
RESTRICTIONS: The centers will be open for residential use ONLY. Commercial landscapers and any other non-residential use will not be allowed.
NO DROPPING OFF OF ANY MATERIALS WHEN THE CENTERS ARE CLOSED.
January 3, 2022
A Message to our Residents –
We at Salisbury Township understand the difficulty most everyone has experienced over the past year (or more) with ever-persistent impacts of the COVID-19 pandemic being felt everywhere.  Because of staffing shortages and the difficulties with retaining and maintaining a full complement of employees at any given time, this affect is especially evident throughout the service industry.  The Solid Waste and Recycling Collection Industry has likewise been impacted.
During 2021 in particular, many of you have experienced refuse and recycling collection service inconsistencies, some sporadic, some chronic, but all quite understandably frustrating.  We sincerely apologize to everyone who has been negatively impacted in such a way. 
As a courtesy to our residents and a thank you for your understanding of the issues at hand and for your continued patience as we work to mitigate them, we have issued a $36 credit on each refuse account on this upcoming January 2022 billing.
Please know we – along with Republic Services management team – are working diligently towards a remedy.  Unfortunately, some of the issues are simply beyond anyone's control, and there simply is no easy fix.  Regardless, we persist in pushing for improvement.
In the interim, we have temporarily extended collection hours, so please be sure your items out at curbside by 5am in a location where they are both visible and accessible for collection by Republic Services' drivers and helpers.  Ideally, you should place your items curbside the evening before your scheduled collection – any time after 6pm – in order to avoid calls for missed collections that were simply instances of items not being curbside timely. 
As always, if your trash or recycling does not get picked up, please report the miss to the Township as soon as possible at either 610-797-4000 or info@salisburytownshippa.org.  Be assured that we are in constant communication with Republic as we collectively strive for a resolution.
Regards,
Cathy Bonaskiewich
Township Manager
On behalf of the Board of Commissioners
If your trash or recycling is missed on your regularly scheduled pickup day, and it is not a Republic Services holiday, please leave it curbside and call the Township office at 610-797-4000 to report the miss.  Alternatively, please feel free to email the information to info@salisburytownshippa.org.
Download a printable copy of this information (PDF) »
There are plenty of good reasons to leave these nutrient-rich clippings on your freshly mowed lawn. Let's look at a few of them.
Did you know that a ½ acre lawn produces over 3 tons or nearly 260 bags of grass clippings each year? Think of all the time, money and effort it would take to bag all those clippings. Why go through all that hassle when it's really not necessary?
Recycling clippings back into the lawn requires less effort than disposing of them as waste. No one has to handle the clippings – not you, not your lawn care professional and not the waste management crew. You can reduce your mowing time by nearly 40% by not bagging, and spend less money on fertilizer and trash bags. And by not trashing grass, you'll be doing your part for the environment by reducing waste!
Nitrogen! Grass clippings are a rich organic source of nitrogen. In fact, 4 percent of clippings are composed of the nutrient. Regular recycling of clippings can reduce the amount of annual nitrogen fertilizing by one fourth. Three years of recycling can add nearly 2 pounds of nitrogen annually to 1,000 square feet of lawn.
Many municipalities no longer pick up grass clippings, because of limited space in landfills. It may surprise you to learn that approximately half the landfills in America ban grass clippings.
Well-chopped grass clippings decompose rapidly, usually within a few weeks.
Clippings conserve water in two ways: they are 90% water and return moisture to the soil. They also add organic material to the soil, which conserves water.
It's simple…grass clippings left on the lawn will decompose and act as a natural organic fertilizer. This allows you to reduce the amount of additional commercial fertilizer you need to apply. Your lawn will still be healthy and green because each time you mow, you will be returning valuable nutrients to the soil!
Mowing Techniques & Tips
Any mower can recycle grass clippings. Simply remove the grass catcher! Ask your lawn mower dealer if a special safety plug or adaptor kit is needed to convert your mower into a "recycling" mower. You can also have a mulching blade installed.
Keep your grass mowed to 2″- 3″ tall.
Do not remove more than 1/3 of the grass blade in any single mowing. For example, if your lawn is kept at 2″ tall, it should not be allowed to grow higher than 3″ before it is mowed again
Mow when the grass is dry.
Keep your mower blade sharp, because dull mowers tear the grass blade, injuring the plant, and create a brownish cast to the turf.
If the grass gets a bit too high, simply mow over the clippings a second time to further shred and scatter them.
If excessive growth occurs between mowings, raise the mower height, mow, and then gradually lower it over a span of several mowings. This will help prevent shock to the plants.
When it's time to replace your mower, consider buying a mulching, recycling, or a non-polluting reel mower. All of these do a good job of shredding and scattering grass clippings.
Trash Hauler Info


CUSTOMER SERVICE: 1-855-866-8399 (TOLL FREE)
Residents may call Republic Services for collection schedules and complaints. Please do not hesitate to contact the Township if you are not satisfied with your service or the hauler's follow up concerning your inquiry.
*hauler does not collect leaves or yard waste*
Holiday Information:
No trash or recycling collection will take place on New Year's Day, Memorial Day, Independence Day (July 4th), Labor Day, Thanksgiving Day or Christmas Day. If the holiday falls on your specific collection day, everything will be collected on your next scheduled day. Please call the Township at 610-797-4000 with any questions.
Single Stream Recycling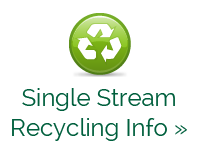 Recycling Bin
Recycling bins are available for purchase at the window in the Finance Office.  Currently, we have 20-gallon bins available for $13 each.