Content Archives:

Refuse and Recycling

The Salisbury Township Department of Public Works will be conducting its leaf collection program starting Monday, October 23, 2017 and continuing through mid-December (weather permitting). We will start in the Fifth Ward (west) and work eastward. The Township crews generally cover the Township several times. Please note that the large number of trees in the Township make it impossible to guarantee a set pick up date for any street in the Township on any given day.

Residents are asked to place their leaves along the edge of the road prior to the start of pickup, which will be conducted from 7 a.m. to 3:30 p.m., Monday through Friday. If leaves are not in place when the crews go by, they will not be picked up until the next trip through that neighborhood. No return trips will be made to pick up leaves.

Please do not place pieces of wood, steel, rocks, concrete, trunks, etc. on the leaves in an attempt to hold them down. These objects cause extensive damage to the leaf machine and place them out of service at substantial expense to the taxpayers in both time and money.

In order to pick up leaves by mechanical means, it is necessary to dump the contents of the plastic bags or other containers into the gutter areas. Crews will not empty bags or containers; this is the responsibility of the residents. Branches, shrubbery, etc. will not be picked up. They will be left behind and are the responsibility of the property owner for removal and disposal.

To facilitate the vacuum leaf pickup, please keep all vehicles away from the area where leaves are piled. The crews will not rake leaves from under or between parked cars.

For your convenience, we will be posting leaf crew location and general direction of collection each Friday throughout the leaf season at www.salisburytownshippa.org. The location will also be posted in the Township office.

Your cooperation is appreciated. If you have any questions, please call the Department of Public Works at (610) 797-4000.
Trash Hauler Info


CUSTOMER SERVICE: 1-855-866-8399 (TOLL FREE)
Residents may call Republic Services for collection schedules and complaints. Please do not hesitate to contact the Township if you are not satisfied with your service or the hauler's follow up concerning your inquiry.
*hauler does not collect leaves or yard waste*
Single Stream Recycling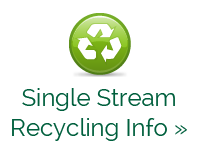 Recycling Bin
Recycling bins are available for purchase at the window in the Finance Office.  Currently, we have 20-gallon bins available for $10 each.