NOTE:
The Drop-off sites will now be open from the first Monday in April through the last Saturday in November.
The hours of operation are Mondays & Thursdays from 10am-6pm and Saturdays from 8am-1pm.
Note: In the month of November, the sites will close at 5:00pm on Mondays & Thursdays
Weeks of operation will alternate with each site. Please see the below schedule for the exact dates.(PDF link).
Printable documents:
DEVONSHIRE DROP-OFF:
Located on Devonshire Road, near the Elementary and Middle Schools Schools, across the street from Western Salisbury Jerusalem Church.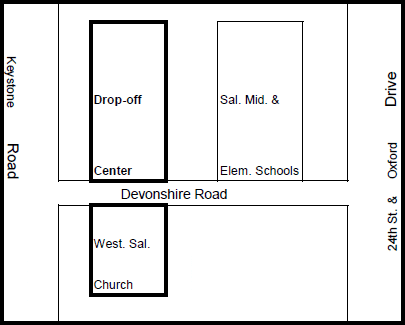 FRANKO FARM DROP-OFF:
Located off East Emmaus Avenue. At the Eastern Salisbury Fire Company, turn south onto Honeysuckle Road, 1/4 mile up on Honeysuckle Road on the left side.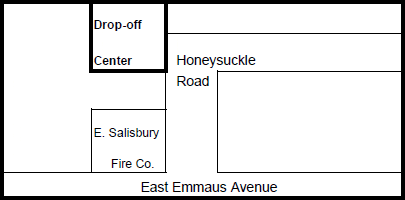 Leaves are only accepted at Franko Farm – they must be clean and not mixed with grass or yard waste. Cut lawn grass accepted at both locations – it must be clean and not mixed with yard waste.
---
ITEMS ACCEPTED:
Yard Waste – Plants and trimmings, NO roots, rocks, concrete, or newspaper.
Branches – Branches no more than 5′ long, maximum 5″ diameter. NO stumps or felled trees.
Leaves – Accepted ONLY at the Franko Site.
MUST BE CLEAN AND NOT MIXED WITH GRASS OR YARD WASTE
Grass – Grass clippings must be separated and transported by residents to the drop-off centers.
GRASS MUST BE CLEAN AND NOT MIXED WITH OTHER YARD WASTE.
* Bags and other containers used to transport the grass clippings will be checked to make sure that they contain only grass clippings and no other waste. Contaminated bags will not be accepted and will be returned to the resident. Bags that contain grass clippings only will be dumped into the grass containers andempty bags will be returned to the residents. The Township will not accept any bags after being emptied.
No Township personnel will be permitted to shovel grass from trailers.
* The drop-off centers will only accept grass clippings generated from home owners mowing their own grass. Residents who currently use a commercial landscaper for mowing must make their own arrangements with the landscaper to dispose of the clippings.
NO COMMERCIAL LANDSCAPER GRASS CLIPPINGS WILL BE ALLOWED.
* NO ILLEGAL DUMPING OF GRASS WILL BE TOLERATED. RESIDENTS MUST USE THE DROP-OFF CENTERS FOR DUMPING GRASS. ANYONE CAUGHT DUMPING GRASS ON ANY PUBLIC RIGHT-OF-WAY OR PUBLIC PARK OR PROPERTY WILL BE CITED ACCORDINGLY.

IDENTIFICATION: Proper ID will be required to determine residency. Acceptable forms of identification include a current-year Salisbury Township utility bill and/or PA Driver's License.
RESTRICTIONS: The centers will be open for residential use ONLY. Commercial landscapers and any other non-residential use will not be allowed.
NO DROPPING OFF OF ANY MATERIALS WHEN THE CENTERS ARE CLOSED.