About the Planning Commission
The Salisbury Township Planning Commission meets the second Tuesday of each month at 7:30pm. The Planning Commission regulates and controls the subdivision of lots and the development of land; the approval of plans, or resubdivisions, standards for the design of streets, lots, easements, and other improvements. Minor subdivisions and resubdivisions are reviewed and acted upon by the Planning Commission. Major subdivisions, land development, and site plan review are reviewed by the Planning Commission who make a recommendation to the Board of Commissioners who then act on the plan.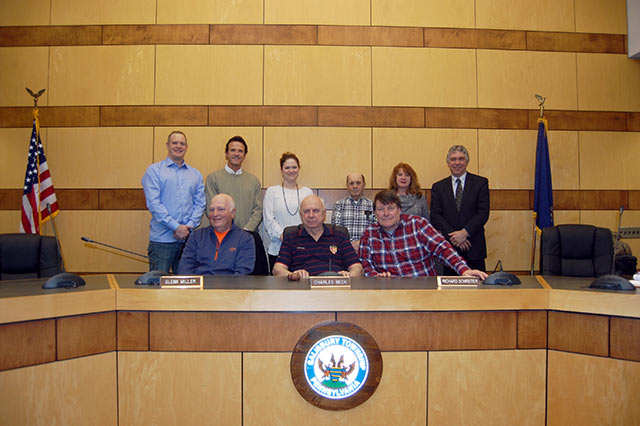 Sitting: Glenn Miller, Secretary; Charles Beck, Chairman; Richard Schreiter, Vice-Chairman
Standing Left to right: James Brown, Mark Kijak, Jessica Klocek, Richard Hassick, Cynthia Sopka Planning Director (retired), David Tettemer Township Engineer
Press Photo By Paul Willistein – Photo Courtesy Lehigh Valley Press
Members
Charles Beck, Chair
Richard Schreiter, Vice Chair
James (Jimmy) Brown
Richard Hassick
Mark Kijak
Jessica Klocek
Glenn Miller, Secretary
Cynthia Sopka, Planning Director (retired)
David Tettemer, Township Engineer
Latest News
Holiday Trash Collection Notice
For residents will Saturday trash collection, there will be no service on Saturday, July 4th due to the Independence Day holiday.  Republic Services will resume regular trash and recycling collection on your next scheduled pick-up day, Wednesday, July 8th, with extra crews/equipment to be sure any additional volumes are collected.
Reports & Documents