Current Rabies Vaccinations are required.
Township Ordinance §2-602 – DOGS & CATS MUST HAVE CURRENT RABIES VACCINATIONS (Ord. 06-2013-583, 6/13/2013, §602)
It shall be unlawful for the owner or custodian of any dog or cat to keep, harbor or have in his, her or its custody or control within the Township any dog or cat three months or older unless such dog or cat has a current vaccination against rabies with a vaccine as approved by the National Association of State Public Health Veterinarians. Proof of vaccination shall be furnished at the request of the Township.
---
Dog Law Legislation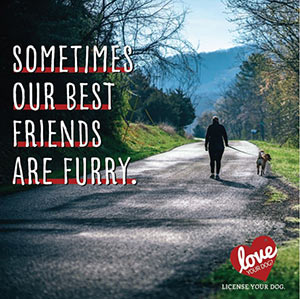 PA dog wardens work daily for public safety. From investigating the nearly 1,300 dog bites reported in 2019, to charging the owners of dangerous dogs and tracking dangerous dogs' whereabouts for life, the Bureau of Dog Law is committed to serving the people of Pennsylvania. Without proper funding, the safety of citizens may be in jeopardy. Contact your legislators about House Bill 1504 and Senate Bill 663. Help Dog Law continue this vital work.
---
License Your Dog in PA
All dogs three months or older must be licensed by Jan. 1 of each year. Violators can be cited with a maximum fine of $300 per violation plus court costs.
An annual license is $8.50 and a lifetime license is $51.50. If the animal is spayed or neutered, the annual fee is $6.50 and lifetime is $31.50. Discounts are available to older adults and people with disabilities.
The small license fee helps the millions of dogs in the state by funding the Pennsylvania Department of Agriculture Bureau of Dog Law Enforcement.
Dog licenses are available from your local county treasurer and other licensing agents.
Reasons for dog licensing:
It's the law. All dogs three months and older must have a current license.
If your dog gets lost, a license is the best way to get him back. A license helps animal control and shelters identify your dog and get him back home safely.
The cost of a license is less than the penalty for being caught without one. Owners who fail to license their dogs could face a fine of up to $300 for each unlicensed dog.
License fees support animal control. The annual fee you pay to license your dog helps keep shelters running and supports the work of the Bureau of Dog Law Enforcement, which is responsible for ensuring the welfare of dogs, regulating dangerous dogs and overseeing annual licensing and rabies vaccinations.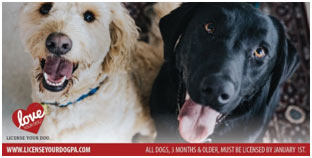 Dog Licenses can be obtained in Lehigh County at the following agents:
Pet supplies plus
2433 MacArthur Rd,
Whitehall, PA 18052
610-432-2199
Lehigh County Humane society
640 Dixon street
610-797-1205
K9 Campus
1855 Folk Rd
Fogelsville Pa 18051