LEHIGH COUNTY NEEDS YOU
ON ELECTION DAY, NOVEMBER 2, 2021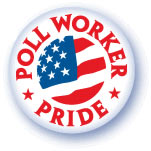 If you or someone you know would like to help in the upcoming election, please consider volunteering as a poll worker.
If interested, contact 610-782-3194 or visit online at https://www.lehighcounty.org/Departments/Voter-Registration/Poll-Worker/Poll-Worker-Application.
An ability to speak Spanish is a PLUS**
Want to help spread the word? Please share on your own pages!!